RATING
PRICE

CONTENT

PRESENTATION

VALUE
The Bottom Line:
MyThemeShop WordPress Themes and Plugins Pros: High Quality WordPress themes and plugins from free to reasonably priced premium versions for use on an unlimited number of sites, combined with top-notch tech support, is what makes MyThemeShop King of the WordPress hill! Cons: None.
TigerBills Bottom Line Review of MyThemeShop WordPress Themes and Plugins
Video Review:
Click the button below for today's Special Offer!
Text Review of MyThemeShop
Hey, it's Tiger Bill here and today I'm reviewing WordPress themes and plugins from MyThemeShop.com.
I've been on the web since 1998 and those days were like the cavemen days, they had no WordPress anything. Nothing was easy or automatic, every website you built had to be coded from scratch using raw HTML.
The Bad Old Days!
Now although you can still use HTML today, the wise thing to do is to use WordPress when building a website because it's so easy, there's no coding involved, you can just click a few buttons and you have a viable website.
Free and Powerful WordPress to the Rescue
Now what's great about WordPress themes is that, in the beginning when you have no cash and you're starting an online business, there are plenty of free themes out there along with free plugins. The problem with free is that these themes and plugins are coded by programmers who usually do it for the love of coding but, because they are not profiting, they have no real incentive to keep their software updated. But the WordPress core is regularly updated every few months and if you're using a free theme or plugin that isn't kept up to date, they can break with any new version of WordPress and if they do, you'll be left nowhere!
If you're paying for a WordPress theme or plugin, you're more likely to get better support and regular upgrades, and MyThemeShop.com is a company I started dealing with a few years ago and they excel not only at creating great themes – they know how to code themes cleanly so they run fasts. Especially with mobile devices today, slow responding themes/websites will kill your mobile devices because nobody wants to wait minutes for a site to open on their phone! And the MyThemeShop folks also offer great support, so let's take a look at their website.
Click Here to go to the MyThemeShop website and along with us. At the top nav menu you'll see tabs for Themes, Plugins, Pricing, and Support. Click on Themes and you'll see all of the themes they currently offer, including both free and premium (paid) themes. I use their themes and the one I'm currently using is MAGXP. If you scroll until you find that theme and click on the Demo button, you be able to see how the theme works in detail. The cool thing about MyThemeShop is that they offer a demo for all of their products.
The Versatile MAGXP Theme
Once you click into the MAGXP demo (see image above) you'll notice there are 11 different variations included in this one theme, which means you can mix and match the various settings to make your site look many different ways all with the purchase of just one theme. The regular price of each theme is $69 but you'll see that they are often on sale for $59, which is extremely reasonable for a high quality WordPress theme especially considering that you can use these themes and plugins on an unlimited number of websites regardless of whether the sites are your own or your client's sites! And on top of that, when you consider the special discounts that MyThemeShop offers regularly where you can pick up a theme or plugin for as little as $19, this becomes a no brainer.
And while that initial cost is a one-time fee, which means you can use the theme or plugin for life, if you want regular upgrades after the first year, you get get it at a discounted percentage each year. Again, this is extremely reasonable for such high quality products that you can use on unlimited sites. Most other quality themes charge a separate for each and every site you want to use them on or they limit you to using them only on your personal and not client sites.
A word of caution concerning "too good to be true" WordPress themes, plugins, and pricing. You'll probably run across themes being sold as a one-time fee, often for as little as $27, and you may think you've found a bargain. The problem is that you'll get little to no support after your purchase and, more often than not, the developer will stop supporting upgrades to the theme after about 6 months or so. This leaves you to go shopping for another "bargain" theme! The truth is that no developer can sell a software that requires regular updates like WordPress software does and provide you with quality long term support and upgrades for a one-time fee. It is a business model that just isn't sustainable for any real developer other than the fly-by-night guys. So don't fall for it! You want to choose a developer who charges something on an annual basis so you can be assured of getting regular updates and support when you need it.
The same thing holds true for free themes and plugins in general. If you choose to use free software produced by an individual or company who also sells products then chances are your freebie software will be supported. But if you choose to use free software from someone who doesn't offer any paid products, other than asking for donations, that's a sign that your freebie won't be around as long as you might expect it to be. If you're serious about developing a website especially for an online business, don't cheap out on one of the most important parts of your business – your web presence! Spend a few bucks on a theme and plugins that won't dissapear on you tomorrow and it will be well worth it to you in the long run.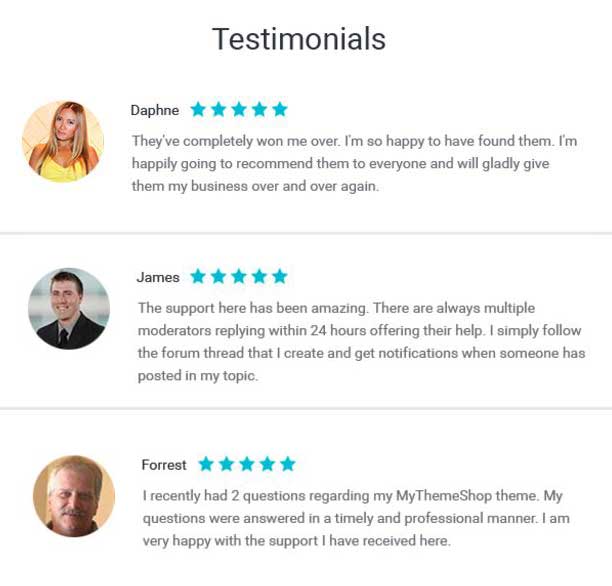 Over 100 High-Quality Themes and Plugins
While we've only looked at the MAGXP theme so far, a simple click on the Themes tab will show over 100 themes currently being offered by MyThemeShop along with dozens of plugins. The best part about this is that there are both paid and free themes and plugins available. If you're just starting out online and you have little to no cash, then these quality freebies can help you get started out on the right foot. And unlike many free themes and plugins that lack quality, these are loaded with features and performance that you would expect only from quality premium (paid) software. Later, as your business improves, you can easily upgrade to premium (paid) themes and plugins when you want to add even more bells and whistles to you website(s).
Pricing

There are 3 pricing tiers available (Check MyThemeShop.com for the current pricing):
If you're an online professional working with clients, your best bet by far is to get an Extended Membership. This costs one initial charge the first month that varies depending on the specials offered at the time, followed by a small monthly fee. This gives you access to the entire MyThemeShop library for as long as you remain a member. And they are constantly adding new themes and plugins that you would also receive. Unlike most of the WordPress theme/plugin suppliers, who provide you with just one license per purchase, MyThemeShop gives you access to their themes and plugins for an unlimited number of sites.
With this option, you can purchase a single product or products at fees that are among the lowest in the industry for quality WordPress themes and plugins. Plus, they regularly offer discounts where you can purchase a premium theme or plugin for as little as $19. This gives you unlimited lifetime use with one full year of updates. But, regardless of how much you initially pay for your theme or plugin, the annual upgrade fee is (at the time of this writing) a dirt cheap $19.
Technically this isn't a "pricing" tier because it's totally free! Currently, this gives you access to 23 free themes and plugins but they add more freebies regularly. This is the place I recommend you begin if you're just starting out and have no cash to spare. This also lets you check out the quality of MTS products before investing in a premium one.
Unequaled Industry Support
When I first started working with MyThemeShop themes and plugins I found a bug in one of the themes. I contacted their 24/7 support through the appropriate forum and, unbelievably on the same day, they not only fixed the problem but sent me a download containing the latest update. That kind of support is unheard of in any industry but especially in this one!
If you ever need MTS support, just go to their support forum and you'll find a dedicated Theme and Plugin support area for Premium Users as well as a similar area for Free Users. If you have Pre-Sales questions there's a forum for that too along with a forum for testimonials, bug reporting, etc.
The Bottom Line: MyThemeShop (MTS)
I've purchased many WordPress themes and plugins over the years and I can honestly say that the MTS team are the best of the best.
So whether you want to pick up a special discount on one of their premium themes and plugins or you prefer to take a free test drive first, which gives you access to all of their free themes and plugins, select the button of your choice below and click it. You'll be happy you did.
Check These Out!
Click the More Info Button below for the best in free themes and plugins and for the latest info and special offers from MyThemeShop:
Thanks for taking the time to check out my review. If you have any questions, please reach out to our TigerMix Support Desk.
I'll see you in my next review,
Here's To Your Success!
Tiger Bill
Full Disclosure: I want to let you know that as an affiliate for this product I will make a commission if you decide to buy it through my link. While this costs you nothing extra and allows me to bring you discounted prices, it is also the reason I can afford to spend my time researching, testing and reviewing internet marketing products like this – so you don't have to waste your time and money doing it and possibly ending up spending your hard earned cash on worthless junk!
In return I always do my best to bring you comprehensive, honest reviews and I only recommend products that I use or have used in my own business and find to be worthy of your investment.