The Best Niche
While there is no such thing as a "best" niche, there are some niches perform better than others especially for affiliate marketers. The #1 top money-making niche is Internet Marketing, which is why most (if not all) of the top super affiliate marketers are in that niche. Now that's not to say the you won't make the big bucks in other niches, you can. But it won't be quite as easy as it is if you start in the Internet Marketing niche.
That said, if you're not interested in entering the Internet Marketing niche, here's how to go about choosing a good, solid, profitable niche.
Myths About Affiliate Marketing Niches
The truth is that there are a lot more "marketers" out there who are selling affiliate marketing advice than those who have actually made their fortunes using that advice. And so a lot of advice that you'll find posted around the web is less than accurate. Here are some things you may have heard that are NOT true:
Some niches and/or products are too competitive
There's no money to be made in selling "money making" products
ClickBank is the only worthwhile affiliate network
None of them are true. A competitive niche is great because it means there are lots of people looking for the information that niche supplies. And, as I said the the prior paragraph, Internet Marketing ("making money ") products are the #1 most profitable niche on the web. And, as we'll cover later, you'll find that ClickBank is only one of many affiliate networks you can use to find quality affiliate products you can promote.
2 Simple Ways to Find a Great Niche
There are tons of ways to find a niche but I've found most of them far too complex and time-consuming. Here are two of the easiest and most effective ways I've found:
#1: ClickBank
Although far from the only affiliate network you'll find, ClickBank is of the best for finding profitable niches, fast.
–Register for a ClickBank account. It's free.
–Once inside, go to the Marketplace and search on any keyword that interests you. For example, weight loss. Here are two examples that came up, as of this writing.
–The Free Flat Abs Fast product (see the first image below) is a low priced item ($10.85) that offers you a high rate commission of 75% (which is good) and the other thing that's good is that they offer a subscription (Avg% rebill 31%), which means that about 1/3 of customers who purchase the front end product at $10.85, also subscribe to recurring billing. This increases the amount you can make on this product over time. You'll notice that this product also has a Grav (Gravity) of 60.94, which is great.
–While the Cellulite Gone product (see the second image below) may seem better at first glance, as the cost is higher at $37.96 and you still make 75% commission so you make more money up front, this may be deceiving. If you look at rebill, you see that there is none, which means that there is no recurring payment involved with this so you will not make anything other than the initial sale. Over time, the first product could make you more money on the same number of sales than the second. And the Gravity of the second product is only 38.38 compared to 60.94 on the first.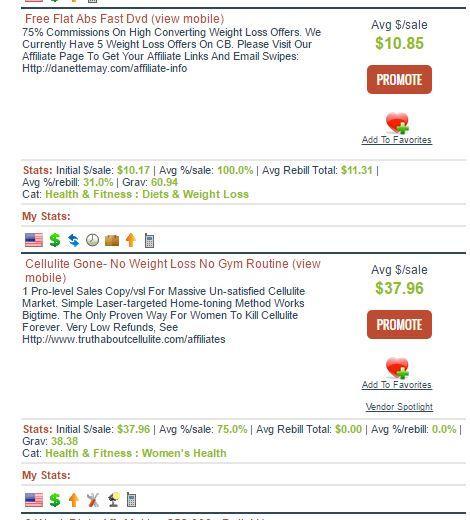 The only term I didn't explain yet is Gravity, which is an easy way to see what is and isn't selling. For example, a gravity score of 60 means that there are 60 separate, unique affiliates selling the product at this point in time. If an affiliate sells 100 products, it still counts as only 1 gravity point.
Anything over 30 is a good gravity score to look for when deciding what products to promote. And while you may hear other "expert" affiliates say that high gravity scores (over 100, for example) are no good because the competition is too high, I have found just the opposite. A higher gravity score, although it means that more affiliates are selling the same product, also means that there is a much larger audience for the product and that many more people are interested in buying it.
#2: Amazon.com
This is the second place I would suggest you go when researching what products to sell. This course concentrates on selling digital products and Amazon mainly sells physical products, which requires an entirely different mindset. For example, as an Amazon Affiliate your profit margin would be 5% compared to the 50 to 100% profit you can make selling digital products. Regardless, you can still use the powerful Amazon search engine to find the hottest trending products of the day. The number of product reviews a product has is also, but not always, an indication of popularity of the product. The reason I hesitate on this one is that some popular marketers with huge email lists can release a book and a few days later have over 100 5-star reviews, most if not all of them supplied by their fans and site members, which isn't always an unbiased example of the real value of the product.
That said, once you find a hot selling product on Amazon, Google the related keywords. For example, let's say you find a Paleo Diet Cookbook, search for that phrase in Google and you'll find many many products related to that niche.
Finding Other Networks
Another option is to Google something to find out if there are other affiliate networks selling it. Compare the products and the commission percentages to find the best deal before deciding whether to promote the item via ClickBank or another network. ClickBank may be one of the best but it certainly isn't the only network on the web!
Next: